T-Shirts:
When You Order You Will Receive:

-A Straight Outta Compton T-shirt

All shirts say :
F#@% The Police
www.straightouttacompton.com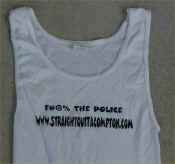 Wife beater shirt- Style #1

Colored shirt- Style #2
(all shirts have black lettering)

They have been professionally printed at a print company.

Order Now!

We don't use credit cards since it would cost to much for the few that order each day to use. Plus it's much more friendlier using money order or checks and easier on us. Put all your info into the box and the desired shirt into the comments box and we will get back to you within a couple of days to verify your order and to give you info on mailing address and shipping price.